"Imagine Being Able To Finance ANY Business You Want, WITHOUT Begging a Banker,
Friend or Relative For Money!"
How Will You Feel When You're Approved For Hundreds Of Thousands Of Unsecured Business Credit?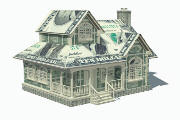 What Would You Do If Funding Wasn't An Issue?
What Would You Be Able To Accomplish?
What Would You Build?
How Could This Accelerate Your Path To Wealth?
---

From the desk of Patti & Robert Farnham

Over the past few decades we have started, acquired and sold quite a few businesses. Most of those businesses were formed inside a corporate structure. That's what our high-priced lawyers and accountants recommended. So that's what we did. Some of these businesses were VERY successful (some, not so much!).



One of our most recent adventures (our internet publishing business), had been growing for a few years. We decided to leverage some of the business credit it MUST have established, and purchase another existing business as a sideline venture.



We headed down to our local bank (the one that had our business credit cards, business checking and saving accounts, and ALL of our business deposits), to see how much credit our corporation had built up, with its multiple business accounts, credit cards and vendors.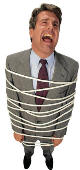 You could have knocked us over with a feather!!



In fact, we were informed that our corporation had ZERO credit. It was ALL tied to us personally. We did some more research and found out that our corporation didn't even have a true corporate credit file with the major business credit reporting bureaus.

How could this happen!

We were seasoned business veterans with paid professional advisors! (or so we thought!) Click Here to read the rest of our misadventure



The sad fact is that the typical small business owner is playing the WRONG credit game. There is information that your local banker, the credit card issuers, and other lenders are PRAYING the small business owner doesn't discover. This lack of specific information helps keep the small business owner SMALL (just the way the banks and the lenders like it).



There is a SECOND (much different) set of rules that the Rockefellers, Trumps, Turners, Branson's and Buffets use. These other methods (known by much less than 10% of the population) are the Corporate Credit Building strategies that the truly wealthy use to build their business empires!



Once YOU learn the REAL business credit rules you'll begin building business wealth from a position of power.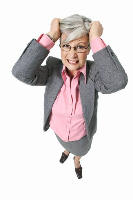 You'll be able to focus on making decisions that build your business, not wasting your precious time groveling, scurrying, and getting on your hands and knees trying to convince unwilling lenders to extend you the financing you need.

After losing out on a terrific business opportunity, we decided to turn over every rock until we found the real story. As it turns out, our banker wasn't much help. She was as uninformed as we were. Another bank employee we spoke with was full of outdated, BAD information. Neither of them knew the first steps to establishing real corporate credit!



Here are the facts:



You can use your corporation to get business credit cards, lines of credit and cash advances WITHOUT your personal guarantees!


There is a HUGE difference between real Corporate Credit and what most lenders call "Business Credit."


You can obtain MUCH higher credit limits with Corporate Credit than you can obtain personally


You'll learn to do this in a way that protects your privacy, family and the other things you've worked hard for!


Your corporation will get better interests rates than you could from a personal refinance.


Most business lines of credit have zero cost for the application and very low costs to use them.
---
Our research, testing and action has paid off. After applying a patient approach to a very simple step-by-step process, we now are in the enviable position of having created access to almost 7-figure corporate credit (without having to sign PG's)
Corporate Credit Success Story!

While working our way through the stacks of research, testing and implementing the creation of our corporate credit, we were contacted by a former customer of another product of ours. She was in a dire situation and emailed us to ask our advice on her risky plan to invest her rent money to buy vending machines. (Yikes!!)



After STRONGLY advising her against it, she agreed. Over the next months we emailed her with the details of our adventure into building corporate credit. We suggested she try it, and see if she can get her financing in place BEFORE she decides on her next business step.



Her AMAZING results are the #1 reason we decided to write down our findings and offer them to you here.



Not only was she able to receive a significant amount of corporate credit, in about 9 months. She also had an opportunity fall into her lap that required almost exactly the amount of credit she had built. She is now well on her way to becoming a VERY successful business owner.

We only hope that this information can be of the same value to you!
---
Q: Are you thinking about becoming a real estate investor?
A: How much faster could your business grow if you had financing available to make ALL CASH offers to motivated sellers?

Q: Are you interested in purchasing an existing business?
A: How much more confident would you be during negotiations if you knew that you didn't have to scramble for financing? And, you could have more than enough credit for any improvements, renovations, changes or marketing promotions!!

Q: Are you interested in starting a business from the ground up?
A: Would you be more confident knowing that when you make a small mistake (everyone makes AT LEAST one), it won't be the end of your business?

Q: Are you interested in owning a specific retail business?
A: How would it feel to BUY your space instead of renting, signing a long-term lease or dealing with a cranky landlord?





Building your corporate credit BEFORE you really need it will help you ENJOY the business building process! It will let you sleep better at night, enjoy family time and concentrate on the tasks at hand.



Your step-by-step system will work no matter what your current situation, assets or personal credit rating. If you follow our simple directions, you WILL establish significant Corporate Credit.
Get Financially Prepared FIRST!

Be ready when your competitor decides to sell out?



Be able to purchase expensive real estate within a corporate structure (without having to pledge your personal assets)



Have corporate loans that don't show up on your personal credit score.



Start the business you've always wanted, knowing you have MORE than enough financing!

Here's the Ultimate Advantage of learning and using these rules and concepts:



You are only legally allowed ONE personal credit profile. But, you can create and grow as many corporations with corporate credit files as you need. Imagine how it will feel to grow MULTIPLE 6-7 figure corporate credit limits. All without a personal guarantee or personal credit checks.
---
But Beware,
There Are Sharks In These
Corporate Credit Waters!!

Like anything else, there are people that exploit this information. The enormous size of the credit limits being granted to corporations has spawned a large group of extremely high priced experts and professionals.



When we started seriously researching this topic all those months ago, we ran across a flock of websites that offered ways to greatly accelerate the corporate credit building process. These website offers ranged in price from $69 ebooks to "attorney assisted" services costing as much as $15,000!



As you know, the opportunity to speed up any process is VERY tempting. These brilliant marketers understand that idea and it makes their "insider services" hard to resist!

We admit it.
We fell for it!



We bought a few of the ebooks, CD's, programs and even had a consultation with a "corporate credit professional" (??)

Here's what we learned from wasting that money:



Many of these programs provide out-of-date information that is simply no longer valid.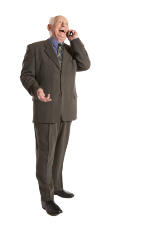 Many of the "consulting services" that charge astronomical fees, use methods that, if discovered by the reporting bureaus, would cause your corporation to be blacklisted. This would force you to start over and incorporate a new company. A few of these "services" have recently been charged by government regulators!



A few programs promoted "blackhat" methods. These crazy methods included creating a new personal credit files using new Social Insurance Numbers, utilizing corporate credit to buy personal items (they say your lenders won't care (??)) and forming offshore corporations using ATM cards to hide transactions. If you followed the advise of these programs you could damage your personal credit file, ruin your chances for true corporate credit, and possibly end up in jail from executing some of these blatantly illegal procedures.



Thankfully, we didn't try any of the methods that would have caused us to ruin our business profile, or break the law. In the end, all we did was waste our money on methods that weren't legitimate, or were written by individuals who obviously had no experience building corporate credit.



There are a few reputable high-end accounting and legal firms that will assist you in legitimately creating and building your corporate credit. The fact that this process takes months is to their advantage. There is nothing that lawyers and accountants love better than projects that take months (or years). They LOVE billing you monthly for their services!
You Don't Need to Spend
Tens of Thousands of Dollars!!
This ISN'T Rocket Science!!

Building your corporate credit is simple is you follow a systematic, step-by-step process. Given a reasonable amount of time, your new corporation will be granted credit, regardless of your personal credit rating. Your FICO score will become separate from that of your corporation.



Stop the frustration of trying to build your business while dealing with small minded lenders.



Learn the SECOND set of corporate credit rules that your local lender, hiding behind the desk, isn't comfortable with.



"How Long At Current Address" and "Proof Of Employment" are the questions that come from small-thinking personal credit lenders. Ask yourself, "How long would Donald Trump put down for "time at current address"? After all, he moves to new million dollar accommodations every few months!



At sometime during it's evolution EVERY business will need some financing! Doesn't it make sense for you to start building your corporate credit NOW, before your business really needs it.
Are there SUCCESSFUL businesses that have
been built WITHOUT major financing?

Yes, and some have become HUGE companies. Thankfully, we live in a world where you can come up with an idea, start with VERY little money, and snowball your profits to build success and wealth. On the other hand, consider how much bigger and faster these businsses could have grown IF they had started off with access to capital?
Readers Comments
Hello P and R
I'd bought your one of your previous publishing and wasn't surprised to find your credit ebook is excellent. I feel like I've been running my business with my banker and credit card company laughing behind my back. Thanks to your info I think I'll turn the tables. I can't wait to see the look on my local bankers face when I cancel my "business credit cards" in a few months. I work too hard to have some banker tie my business loans and credit to my childrens home and possessions. That freedom is worth much more than the price of your ebook.
Once again, thanks very much

Peter D.

(click here to read more testimonials)
Business Reality Check

Unfortunately, the majority of new businesses fail.

Why?



There are many reasons. A great many fail because of lack of capital. And others simply get hit by a change in market forces. By establishing a corporate entity and building corporate credit you can greatly reduce your downside risk. You will have the financial resources in place if, or when problems arise. And, if things do fail, you will lose all the time and effort you invested, but you WON'T lose your house, car and family possessions.



If you decide to create your business using your own personal credit and credits cards you risk EVERYTHING!



Despite what the Corporate Credit Building sharks would like you to believe, this process does take some months before you see real results. A bad personal credit score can slow down the process initially, but won't stop the process. You can build a large corporate credit profile with BAD personal credit!



It doesn't requires hours per month to manage this building process. The hardest part is just getting started. We are still actively building our corporate credit today! So is Donald Trump, Warren Buffet, Ted Turner and yes, even Oprah. You will soon discover that THIS is what the truly wealthy do!



Build your corporate credit, leverage it to buy assets, use those assets to raise more financing and credit, rinse and repeat, etc., etc., etc.,
Credit + Leverage = Wealth

A simple, step-by-step process that works. We are proof of that. These methods are working TODAY!! Quite simply, the more time you allow this mature, the more options your business will have to build credit and obtain loans and leases without the use of your personal guarantees!



Start building your corporate credit limits towards 7 figures, without hassles, begging and bad information!



Profit from the same rules that millionaires and billionaires use every single day!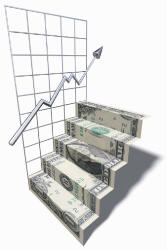 You can learn everything you need to know to get started in establishing corporate credit.



You'll learn how to save money, and avoid headaches, and the most common pitfalls.



You can learn from OUR mistakes. We made a few along the way, so you don't have to!



There are THOUSANDS of credit programs available to your corporation which are not available to individuals.



Most large banks treat corporations totally different from individuals (and usually BETTER!)
---
But, I Haven't Decided What Business I Want?

To become financially free you will NEED to start a business. The days of having a "secure" job are over. From downsizing to foreign outsourcing, the average salaried employee is sentenced to living paycheck to paycheck. However, deciding on exactly WHICH business you want to get into is a HUGE decision.



Don't put the cart before the horse. By establishing a corporation, and beginning to build corporate credit NOW, you will be miles ahead of most startup businesses. It takes time to build corporate credit. You can use this time period to research your opportunities, do your "due diligence" and refine your business plan. And, you won't have to narrow your search to only the businesses you can afford with your personal cash flow!



Refine your business plan, build your corporate credit, do your homework, and you'll be more confident and prepared when you decide!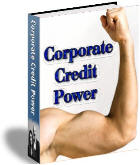 All this information is yours inside the ebook:

"Corporate Credit Power"
Order Your Copy Today For JUST $47.00

---
Do you believe in "LUCK".
The lady (Jules) who we mentioned above, had a bad personal credit rating. She used our information to slowly build a great corporate credit file. Do you think it's "luck" that a great business opportunity (one she had looked at previously, but couldn't afford) became available at the same time she had been approved for that amount of corporate credit??
The #1 Rule Of Borrowing
"Banks and Lenders Don't Want To Lend You A Penny When You Need Money!"
The #2 Rule Of Borrowing
"Banks and Lenders Bend Over Backwards To Setup Lines Of Credit And Lend You Money When You Don't Need It!!"

Don't fight those common rules, use them to your advantage!



Spend the time NOW and start building your credit limits, BEFORE you need the money. Major financing will be in place for when YOU want it!!



Building your corporate credit first is like putting a safety net under your new high flying business. Hopefully you won't need it for emergencies, and only use it for expansion and acquisition. But, it's good to know it's in place should you make a small miscalculation.



Many, many small businesses are forced to fold up before they have a chance to be profitable because of one small mistep. Eliminate that possibility, grow your corporate credit limits as your business insurance policy!



This could be the smartest decision you make towards starting that profitable business you'll love!



Somewhere in your future, an opportunity will present itself that could be YOUR brass ring. By starting today, you will be able to profit from that opportunity when it taps you on the shoulder.

Or

You will have to politely decline the opportunity due to "lack of financing"!
The choice is ALWAYS yours!



We wish you the best
(in ALL areas of your life!)



Patti & Rob Farnham





30 Day 100% Money Back Guarantee!



We will gladly refund 100% of your purchase price if you are not totally satisfied with this information. We're sure that if you read the ebook and take some action you will be delighted with your results. If you honestly feel you didn't receive exceptional value for your hard earned dollar, simply send us an email within the next 30 days and we will refund 100% off your purchase. No questionnaires or weasel clauses. You're not happy, you get your money back. We'll take 100% of that risk!

NOTE: This information is delivered to you in ebook format.
It is a .pdf file that can be read on any computer platform
You Can Be Reading Your Copy Of This Information In Just Moments

(yes, even if it's 2:55 am.)
Order Your Copy Of This Valuable Information
for just $47.00 Today!


ps. Over 100+ million companies in the USA have built credit files that they use to smooth out daily cash flow, obtain credit cards, lease cars or real estate, fund acquisitions and expand into complimentary divisions.

pps. Don't make the same mistake we did. We found out the hard way that there is a HUGE difference between waiting for typical business credit to be established, and building TRUE corporate credit! Your corporate credit file building process will not happen on it's own, you must take action.


ppps. A little insider knowledge and some action is all that is standing between you and a corporation with huge credit limits.


pppps. Are you aware that the top 1% of the wealthy control over 80% of the worlds wealth? Could it be that they have the ability to act quickly when a great opportunity appears. The rest of the population simply can't move that quickly. Start building your corporate credit today and you'll be ready to seize your GREAT opportunities in the future.

ppppps. This information is well worth the $47 price tag. We don't feel the need fill up this website with extra bonuses. We won't insult you by offering "out of date bonus ebooks" listed at some ridiculous valuation, just to entice you to purchase. That being said, we DO love to send our valued customers some "Unadvertised Thank You Surprise Bonuses"


pppppps. Everything in our lives is the direct result of the choices we make, or don't make!
Readers Comments
Hello Patti and Rob
I had downsized my business dreams. That was easily the best $47 I ever spent. I am totally stoked! I know this might take a few months, but thanks to your ebook I can't sleep at night. And that's a great thing. I've started thinking big again!
You guy rock!

Brad M.

(click here to read more testimonials)
Start Building YOUR
Corporate Credit Power Today!


© 2006 - CorporateCreditPower.com, all rights reserved