Here's a small sample of the emailed comments we've received.


Testimonial


Thanks
After reading your ebook I think someone should bring the lenders to task for their smoke and mirror tricks. Thanks for pointing this out. Good ebook!

Faye M.

---

Testimonial


Hello
I needed to write and say thank you. I'm in a Catch-22 postition. I have a business that needs my attention 24/7 but doesn't produce enough cashflow to expand. I've been turned down by my local banker many times. Now I know why! Your information has given me the direction to get the financing I need to build my business, instead of being a slave to it.
I do appreciate your efforts.

Ricky G.

---

Testimonial


I got angry while reading your email report. I actually went and checked my business credit cards. I was steamed. You were right! I feel like my bank has been pulling the wool over my eyes. I guess we gotta look out for number one these days. Thanks for the wakeup call! The ebook is just excellent!
Thanks

Joseph M.

---

Testimonial


Hi
Please feel free to send me anything you two write! I read the free report and immediately checked my business credit card. Bingo! Those sneaky bankers! You guys must be a lot of fun. Thanks for the heads up.
A future corporate credit mogul!

Sandi A.


---

Testimonial


I have a friend who has no money, credit, etc but does have a great idea for a business (after working for a few companies in the same genre). He knows how to cut the corners his ex-bosses had to endure, has a good, original marketing plan, but like I said: no financing. After reading your info I know your latest book will do the trick for him. Glad you guys were there the first time; and it looks like this is a real winner too. Keep me posted if you write anything else.
Thanks again,
.
. Gord B.
.

---

---

Testimonial


Dear Rob & Patti,
I've completed the e-book, and found it to be the best instructional guide to corporate credit that I've ever read. This is truly a God-send. I was at a crossroads in my business endeavours, but you've given me one of the most importants keys I'll ever need. Just like you, I've talked to 'bankers' and 'experts' who advised me to obtain this or that credit card, only to realize that it's really just a glorified personal credit card that's not doing a thing for my business credit. I was so pleased with your product and straight-forwardedness, I'm even going to purchase another copy of your ebook and forward it to a dear friend (and brother-in-law) of mine.
Thanks again.

Derek S.


---

Testimonial


Patti and Rob,
Thank you very much for the interesting and enlightening ebook regarding corporate credit. Your offer to me to purchase this book came at the exact time that my husband and I needed some help.
We formed an LLC in December with the intent of opening a sports pub and grille. We have good personal credit, but were unable to secure enough financing under our LLC for our projected $250,000 restaurant project. Only a $10,000 SBA loan through a local bank, and, actually, I'm not sure that wasn't with a personal guarantee!! We had been thinking very seriously about using credit cards to secure the $100,000 we still need, but, after reading your book, have completely reconsidered. Knowing that we can build corporate credit prior to opening our business is so reassuring.
We now plan on using your steps over the next several months and waiting until we can totally use corporate credit to move forward with our restaurant or any other business.
I feel very relieved and so much better now that I have a plan of action.
Thank you both so much!!

Rosanne B.


---

Testimonial


Hi Patti and Rob
Thanks yo so much for all the info. I think I'm actually going to start my own restaurant. I just met with a chef who has owned and worked for many, many businesses. He said he wished he could have found your info years ago! And he's been in this business for over 30 years. I'm going to be able to do this without jeopardizing my or my husbands credit. My husband has owned his own corporation for years, and as you mentioned, everything he has done in the past 15 years reflects back to his SS# and personal info!! That stinks. We are both studying all of this new info.
Thanks Again!!
Sincerely,

Michelle


---

Testimonial


Thank you very much!
Just a quick note. It is very easy to see that the customer service you talk about in your previous businesses is still very strong with you today. I wish I had "Corporate Credit Power" before I had gone to purchase my laundry outlet. I paid a kings ransom for an "expert" to get me the financing I needed. I would have avoided a few sharks by following your advice. I'm going to get started on your prescribed path so I can expand when the time is right (without the sharks commission)
Thank you again for a wonderful job.

Bill C.


---

---

Testimonial


Hello,
Thanks for your follow up. I have read your entire ebook, and quite honestly, I wish that I had discovered it by doing more due diligence before I paid almost $15,000 for an aged shelf corporation last year. If I'd bought your book and spent a few months implementing it I could have saved all that money. Like you say, live and learn.However, what's done is done. My previous venture didn't work out like I had planned. I will implement your strategy and wait for the next "knock".
Best to you both

Lorne S.


---

Testimonial


Thank you Patti & Rob.
I have read the entire ebook and just like you, I have made a lot of mistakes in the past but with God's direction and the instructions from your ebook, I think I will be successful while going forward this time around. I have screwed up my personal credit, as well as my wifes and am going to be careful with "every" decision I make in the future. I am hoping that this is going to be the best investment of $47, I will ever make in my entire life. I will follow it to the tee!
Respectfully,

Vernon McC


---

Testimonial


Thank you. Thank you. Thank you.
I can't begin to tell you how wonderful the ("hidden resource") is. There is so much I need to correct in my life in this area. Thanks for sharing your story and your discoveries. Please continue helping people the way you do.
May God always bless you both.
(a very satisfied repeat customer)

Sandra


---

Testimonial


Patti and Rob
Thanks for writing your ebook. I found it filled with great info and is also easy to understand, and funny too. I read it in a few hours last night and I am going to read it again tonight. I now understand how I can get it right.
Thank you very very much!

Bertie Williams


---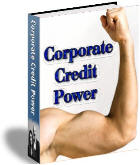 All this information is yours inside the ebook:

"Corporate Credit Power"
Order Your Copy Today For JUST $47.00

---
CorporateCreditPower.com Home Page
(Click Here)